Rajhenburg Castle, Cesta izgnancev 3, 8280 Brestanica, Slovenia
Opening November 16, 2018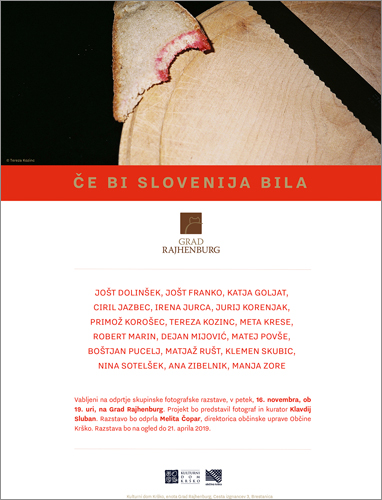 You are kindly invited to the opening of our exhibition If Slovenia Were on Friday, November 16, 2018 at 7:00 p.m. at the Rajhenburg Castle.
A book of the project (published by Krško Cultural Centre) will be launched at the exhibition. It consists of 19 notebooks inside a hardbound box (155 x 220 mm). Each artist is represented with their own notebook, in addition to the introductory essay by the curator and biographies of all participating artists, in Slovenian and English.
The exhibition will be on view until April 21, 2019.

www.gradrajhenburg.si/prireditve/ce-bi-slovenija-bila
www.facebook.com/events/220186285328593/